Sign up to the Despatch Box, the new weekly political e-magzine from digitalpolitico.net
The Autumn Statement given by the Chancellor will not lead to the omnishambles style crisis we saw after the last Budget. He can rightly point to the fact that despite the fact he was giving much bad news, he did it in a coherent manner. Indeed he gave some actual, real, good news by scrapping Labour's fule duty hike.
However, the increase in the number of people in the 40p tax band will be a huge problem for him.
It is a Conservative Chancellor attacking the middle class, or, as the Mail put it tomorrow: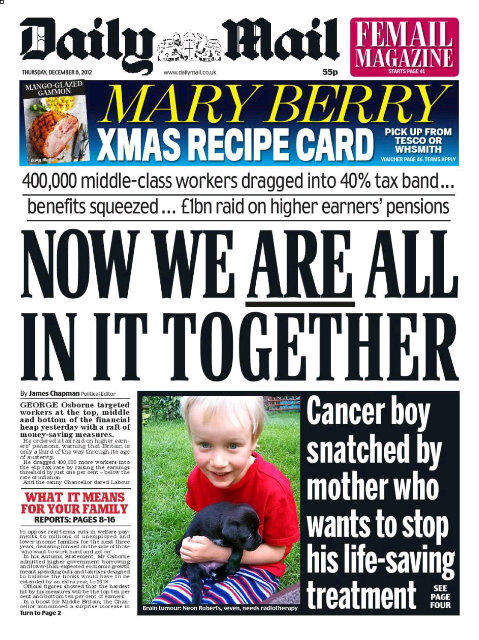 People like to mock the Daily Mail, but the sentiment of that frontpage will strike a chord with many.
While Labour like to pontificate over the ineffective 50p tax rate, 40p effects far more people, many of whom are not rich.It's the type of thing that were they in opposition, Cameron and Osborne would be rallying against. It almost certainly shows the extent of the mess with which they are faced that they feel they have to do this, but that won't make any more palatable to the public.
40p could cause the biggest headache for Osborne over the coming weeks.
Sign up to the Despatch Box, the new weekly political e-magzine from digitalpolitico.net